We help you to relieve your difficulties and help you to stand on your own feet!
This is the goal of our relief efforts, and we hope it will help!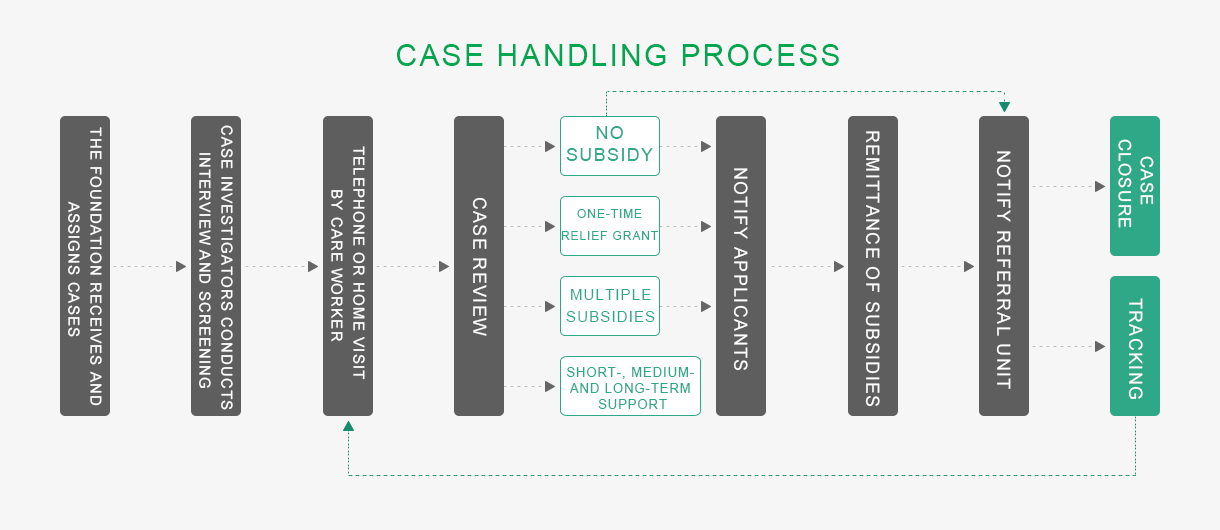 After receiving the application information, the case investigator will ask the applicant to make up for the missing signature or the absence of the referral unit's seal on the documents. Those failing to do so shall not receive the financial assistance applied. After the written review, case investigators will conduct a telephone visit and notify the applicant of missing documents, ask the referral unit or other channels, and visit the family if necessary. We hope to help families achieve the goal of "gradual exit from poverty" or "independence from poverty". After multiple checks to determine the authenticity of the case and the relevant information, except for individual cases where the application is deemed to be unsubstantiated, the Foundation shall provide one-time, multiple, short-, medium- and long-term living financial assistance depending on the severity of the case, together with the necessary diverse assistance and relief services (10 items depending on the need), hoping to help the family in need achieve the goal of "getting out of poverty step by step" or "getting out of poverty and becoming financially self-sufficient".
One-time Emergency Relief

"One's fortune can change in the blink of an eye!" When a family encounters a sudden financial hardship and is caught off guard, or if the family is in chronic poverty and has no chance of improvement, the case investigator will verify and assess the situation and provide a one-time grant to help the family overcome the hardship. Depending on the situation, the interviewer can follow up or close the case, which is the "breadth" of the assistance, targeting families in genuine difficulties to help as many families as possible.

Multi-assistance

To strengthen the one-time emergency relief, the case investigator will follow up and care about the latest status of the family from time to time after providing the disadvantaged family with a single relief grant and tracking the case. After re-checking and evaluating the merits of the case or if the family is deemed necessary, the Foundation can provide assistance again, and then continue to help the family several times in the mode of "tracking, caring again, and assisting again when necessary", hoping to help the family in need achieve the goal of "getting out of poverty step by step" or "getting out of poverty and becoming financially self-sufficient". This is the "depth" of assistance, and we provide impactful assistance to families in genuine difficulties, seeking the opportunity to "getting out of poverty step by step".

Short-term, medium-term and long-term assistance

"Support for the Family, Love Never Ceases!"
We help "families in emergencies and dire poverty!" There are many families who apply for assistance due to sudden emergencies or long-term poverty. However, our resources are limited. In addition to providing one-time or multiple subsidies to help families in urgent need, we can only select the most genuinely disadvantaged families with simple family structures and positive upward spirits and provide timely short-term (within 3 months), medium-term (4-6 months) or long-term (more than 6 months) support. The monthly assistance for the short-, medium- and long-term support periods is not fixed and is subject to change depending on actual needs. This is the "depth" of the assistance, which provides a period of stable relief to families in genuine hardship and with a positive outlook, seeking the opportunity to "stand on their own feet and becoming financially self-sufficient".

Diversified Support

In addition to providing required financial assistance, the case investigators will also select the necessary and appropriate services from the following 10 diversified services, depending on the actual needs of the case, and provide them. The diversified services are not limited to how many or how many times they can be provided, but are mainly based on whether there is a practical need and whether they can be effective after they are provided. We hope to help those in need from multiple perspectives and directions, and we hope to create a network to support our case subjects who are in genuine difficulty but remain positive.

Hand in hand, we help you achieve great things --- Helping you to become self-sufficient

We provide vocational training, guidance for micro-entrepreneurship, and promotion of related products, so that you will not be alone in your business or job search.

Clear and transparent, real time information is really convenient --- Provision of information on related services

We provide accurate and detailed information on social welfare, vocational training, employment, etc., so that you will never miss out on first-hand information and win at first opportunity.

We will provide you with all the necessities of life, home appliances and household goods --- Provision of supplies

We will provide the necessary supplies in a timely manner, such as PCs, furniture, and household goods, etc. We will do our best to help address your genuine needs.

Supporting you in sickness and pain together --- Medical assistance and supplies

We provide nutritional products, auxiliary aids, early treatment and other medical services to help you maintain a healthy state of health, so that you can look good without worries.

No more worries, no more arrears -- Assistance in settling your outstanding bills

Whether it comes to rental deposits, rent payments, or housing repairs, we can provide assistance. Upholding housing justice is not just a theoretical concept, but something we actively practice and implement.

Having a home to return to is housing justice --- Helping you live with peace of mind

Don't be afraid of arrears, we provide immediate monetary assistance to help you pay for funeral, medical, rent and other expenses to solve your urgent financial needs.

Don't give up, go to school and break away from poverty --- Care for students

We provide long-term scholarships and living support, so that students who are serious, studious, and motivated can complete their studies without worries, and strive to move towards the future they want!

Harry Potter wielding his magic wand to help you achieve your dreams--- We help you fulfill your dreams

We provide you with the strongest backup and support for your dreams, so that you do not have to hesitate in the process of fulfilling your dreams because of hardship in life, nor do you have to stop because of other obstacles, so that you can be yourself and achieve great things.

Focus on listening to you and solving your problems, I understand you --- Emotional care

Feel troubled but have no place to vent? We are always here to listen to your inner pain, accompany you, and relieve your worries and anxieties. We will also provide timely emotional guidance so that you can let go of your heavy heart and become relieved of your worries.

Provide shortcuts and easy access to resources --- Resource connections

In addition to the services provided by the Foundation, we also provide links to public sector and other charitable organizations, and even Evergreen Group related resources, providing you with the best shortcut to resources.